Hope YE all enjoyed the match yesterday…. A Perfect ending, this morning watching d vid clips from RTE, seeing BOD v emotional… A great n truly deserved send off to not just a sporting legend, but someone who comes across as just a really great guy.. Fair play to him, and on this weekend, feels great to be Irish…
C'MON IRELAND
– Ireland are 2014 6 nations rugby champtions after beating France in a thrilling bloody battle in Paris yesterday.
– Brian O'Driscoll, or BOD, or Drico, played his last game in the green jersey after 14 great years, the highest capped player in rugby history, 141 test matches – 133 for Ireland (83 as captain), and 8 for the British and Irish Lions.
– Its Paddys weekend, the days around the world when Irish, and anyone who is on for a good time, celebrate their existence and have a right old party, the win yesterday just added to it all.
– Last week Brian O'Driscoll played his last game in Ireland, he won man of the match due to setting up 3 tries, and he got a phenomenal send off… Something very special in Lansdowne / Aviva
– Apart from his game playing he has done lots to help charities and help out young Irish children, to offer support, to be a role model. Heres the HUGE thank you he got from the kids in Temple street hospital
NEWS REPORTS:
Brian O'Driscoll final game on home soil for Ireland | RTÉ Sport (Listen to the roar he gets..)
Brian O'Driscoll and Shane Horgan – The BOD Interview | RTÉ Rugby
'Magic man' Brian O'Driscoll bows out on a high
Brian O'Driscoll's farewell day at the Aviva in pictures
Brian O'Driscoll on Ireland's Six Nations victory: 'I'm finishing on a high' – video
Brian O'Driscoll bows out – and international rugby will miss him
Brian O'Driscoll: 'He changed Irish rugby's mindset for good'
Brian O'Driscoll's 10 most memorable moments – in pictures
Brian O'Driscoll and Shane Horgan – The BOD Interview | RTÉ Rugby
Q&A: Brian O'Driscoll answers questions at his testimonial
Sadie O'Driscoll is star attraction on Saturday's game as ratings surge when BOD carries her on pitch
Hat-trick against France, Six Nations 2000 "Paris, they say, is the city that changes least," wrote Marguerite Duras. "After an absence of 20 or 30 years, one still recognises it." For Ireland it had been a 28-year absence and they could recognise La Ville-Lumière by the recurring taste of defeat on their lips. That all changed, however, 14 Marches ago. Wearing a floppy fringe and a jersey that looked like he had borrowed it from an overweight uncle, O'Driscoll tore through the French defence three times. "When you're in Paris there is always an element of fear," O'Driscoll said , but looking back at those tries what is striking is the complete lack of fear in his play and the utter confidence he displayed, not to mention the perfectly angled runs for each on of them. That he did this aged only 21 was staggering. Keith Wood would later describe it as "the best performance by an Irish player I'd ever seen". Photograph: Ray Lohan/SPORTSFILE/Corbis
Brian O'Driscoll: Phew! Worked out ok! Thanks for all the messages of support. Unreal feeling. Not easy taking this off for last time pic.twitter.com/Sq89BdLOnw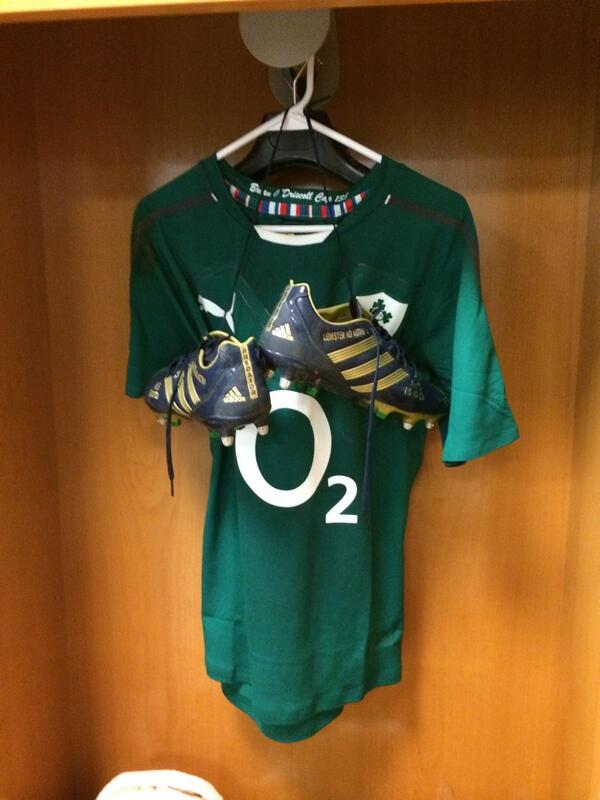 Thanks Brian, another Irish Legend.