YES YES YES
YES WE CAN – SÍ SE PUEDE
#12M, Sunday the 12th of May was the big day for a week of actions and demonstrations in Spain to mark the two year anniversary of #15M, the 15th of May 2011, when the indignados (indignant ones) movement exploded in Spain with the occupations of public squares all over the country.
Yesterday in Barcelona, there was a massive turnout of people in the streets. Columns in different sectors of the city formed and marched into the cities indignado heart, Placa Catalunya, and from there a march started at 6pm. After a few hours many thousands had marched up to Universitat, along the Grand Via to Placa Tetuan and from there down Passeig San Joan, finishing at the Arch of Triumph.
From there some groups broke up and did their own thing, the highlight of which was the "liberating" of a derelict building by those green tee shirt heroes PAH (Plataforma de Afectados por la Hipoteca = Mortgage Victims' Platform) and their supporters. The building has become the new home for families recently evicted by the banks. Some say demonstrations dont achieve enough, some say direct action is the only way to bring about the change we desire.
In Spain, since the crisis began 5 years ago there has been nearly half a million forced evictions, of people who cant keep up the payments of their mortgages due to the severity of the crisis cuts and the highest unemployment rate in the developed world, now at 27% (57% for the youth of spain). The banks take peoples houses and the people are simply thrown into the street. This is not something unique to Spain, but here the difference is that once the bank take your asset, you still have to pay. For many this is an impossible situation, for some the only thing left to do is the ultimate step of committing suicide, tragically we have seen copy cat suicides like where an old couple who spent their whole life trying to have a decent and dignified life ended their days by jumping from their balcony as the police were below trying to force open their homes to throw them to the street.
Yesterday was not the end but just another day of building up the society we want. We know what we want, we are becoming the change that we want to see in the world…
YES YES YES
YES WE CAN – SÍ SE PUEDE
  *
Video from Barcelona yesterday
* Spain's Indignados movement holds anniversary march
LINKS: PAH: http://www.afectadosporlahipoteca.com | http://pahbarcelona.org Cunning Hired Knaves PAH articles: 1, 2, 3 and 4 | BARCELONA #15M Newsletter nr 44: 3. Actions and activities marathon on the square and the streets: 10M-15M Groups: Acampadabcn | iaioflautas #12M12M 2012: #SpanishRevolution reloads, takes aim and fires… #OccupyMordor
Reports: Spain's Indignados movement holds anniversary march | The Shadow of 15-M Spanish / Catalan reports:  Milers de manifestants a Barcelona, València i Palma per a commemorar els dos anys del 15-M | Avui diumenge #12M sortim al carrer i després? Seguim tot l'any! | 15-M: manifestación 2 años después… | El 15M vuelve a tomar las plazas de España en su segundo año de protestas | Así te hemos contado la protesta del 12-M Fotos: #12M Barcelona | 12_05_2013 Manifestación 2º aniversario 15M | Madrid: El 15M vuelve a clamar en silencio contra los recortes (+VIDEO)
Background: #23F: mass demonstrations against financial coup in Spain | Homage to Plaza Catalunya: REAL DEMOCRACY NOW IRELAND event Guardian: In Spain they are all indignados nowadays | Pedro Almodóvar backs wave of Spanish protests over family evictions | Spain halts evictions for the needy after suicides | Pamplona's locksmiths join revolt as banks throw families from their homes | Spanish woman jumps to her death as eviction looms | How the corrala movement is occupying Spain | Seville corralas – in pictures | Spain's housing crisis – readers' panel Other: Evicted retired couple commits suicide as Spain debates reform | Protests against evictions across Spain | From networked protest to 'non-capitalism' | 27% of Spaniards are out of work. Yet in one town everyone has a job
#12M in Barcelona, communications…
Acampadabcn
: Recordad, esta tarde a las 18h, no faltéis! (Remember, this evening at 6pm, dont miss it)
VID PROMO: #12M SAL A LA CALLE (#12m take to the street)
Photostory from #12M in Barcelona…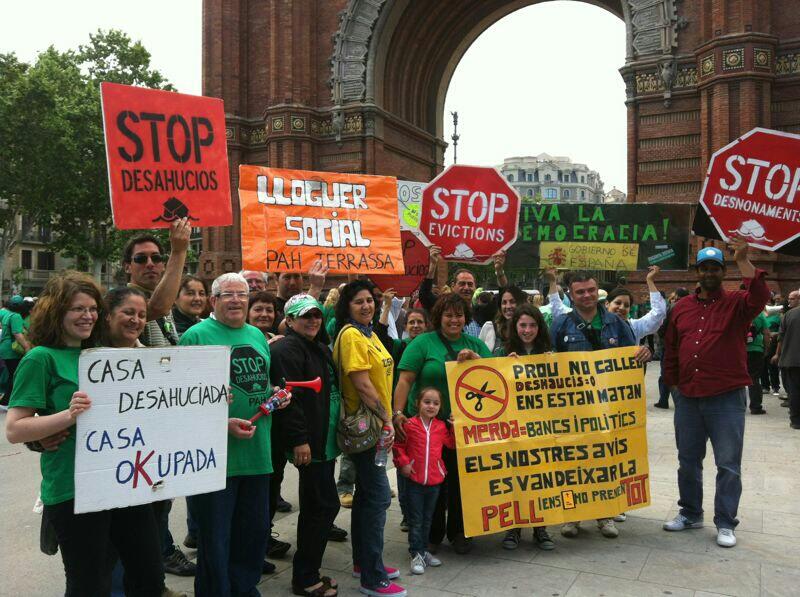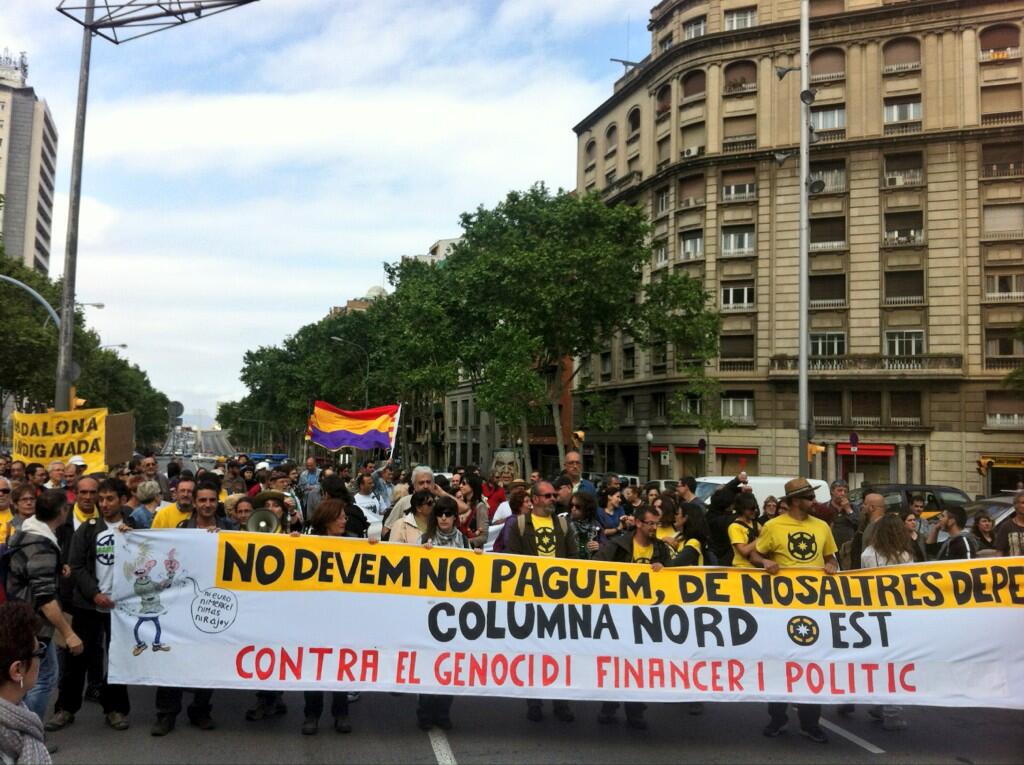 The demo leaves from placa cat:
15MBcn_int: Massive DEMO at Barcelona 2 years after #15M movement begun the huge civil disobedience #12MBcn p/v @Nitsuga000 pic.twitter.com/3GQhSWRckm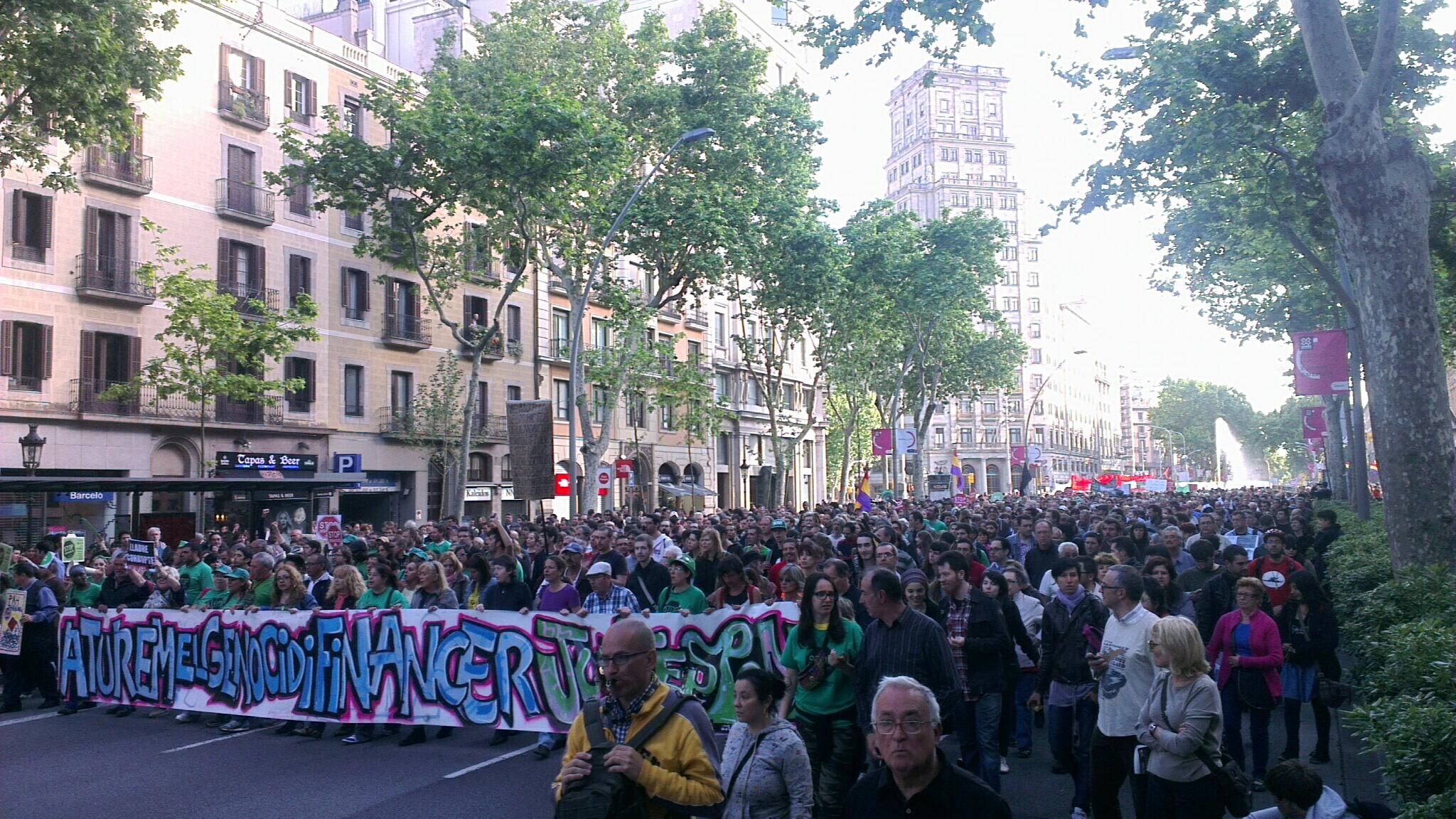 iaioflautas (the Catalan pensionar block, iaio means granda) = heroes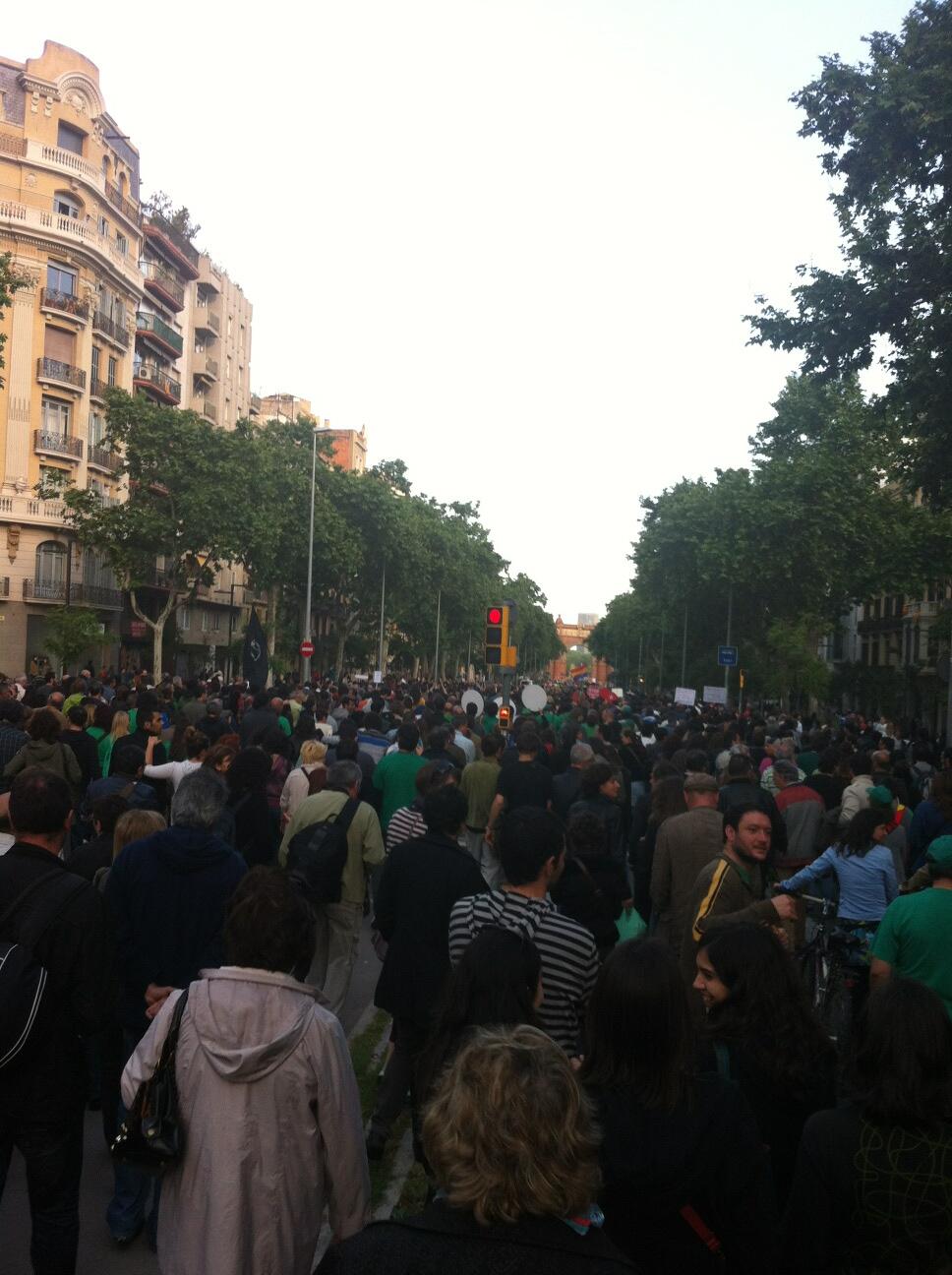 CNT Catalunya: La mani acaba amb l'#okupació del nou #CSO #LasBarricadas al n° 88 del c\ #StPereMésBaix #BCN #Okupem12M #12MBcn #12M pic.twitter.com/NZDApauACz (the demo finishes with an occupation of CSO (occupied social centre) THE BARRICADES at…)
This is what Madrid looked like last night…
Related:
A few months back there was an excellent Manu Chao gig in L´hospitalet, Barcelona. Before the gig a few PAH members, including our friend Ceci from Peru, were invited to the stage and they outlined their cause. Manu donated a couple of thousand euros to help in their struggle…
Lectura manifiesto PAH L'H en el concierto de Manu Chao
THIS IS WHAT DEMOCRACY LOOKS LIKE
THIS IS WHAT DEMOCRACY SOUNDS LIKE
3. ACTIONS AND ACTIVITIES MARATHON ON THE SQUARE AND THE STREETS: 10M-15M
BARCELONA #15M Newsletter nr 44: 3. Actions and activities marathon on the square and the streets: 10M-15M

May 15th marks two years from the demonstration which triggered the acampadas. A group of people, coming from different collectives, are meeting every two weeks, since February 23rd, in Parc de la Ciutadella to coordinate the different actions and activities that will take place from May 10th to 15th.

Right now the agreements they have reached are:

There is going to be a permanent assembly on Catalunya square from May 10th to May 12th. Several collectives and neighbourhood associations are going to have a stand there to share information.

Conferences on the problems Public Health cuts are bringing, on the huge scam the Debt is, on banksters… are going to take place on the 11th and 12th and universities are going to organise lectures on the street on the 14th.

On May 11th a big assembly will take place at the end of the day

On May 12th there is a call for a demonstration in most big cities in Spain. In Barcelona, it is going to start at 18h in Plaça Catalunya. Neighbourhood assemblies will march in big columns from their main squares. It will start with a theatre performance and several actions are expected during the demonstration and at the end of it. The slogan will be: "Let's stop financial genocide, together we can!" (Aturem el genocidi financer, juntes podem).

The following three days, decentralized actions by the different collectives and neighbourhood assemblies are going to happen all over the city.

Finally, as through 2 years of actions make activists feel like a family, the 3 main spaces in the Square will be named after 3 dear fellow activists who died this last year. This will make them be once again with us all, fighting for a better society.