Yesterday David Cameron admitted that there was 'shocking levels of (British state) collusion' in the Pat Finucane murder, but how much more collusion has there been that still has to be uncovered?
TARGETED BY BRITISH ESTABLISHMENT
EXECUTED BY UNIONIST DEATH SQUADS
** The Pat Finucane Centre** Irish Times: British forces 'facilitated' UDA murder of Finucane | Timeline of Pat Finucane case | State agencies 'involved in murder' – Cameron | Cameron statement on de Silva report | Finucane widow rejects 'whitewash' | Taoiseach's statement on de Silva report | Gilmore says State seeking full Finucane inquiry | SDLP, Sinn Féin seek public inquiry | Mural unveiled to honour Pat Finucane | Governments 'knew' of Finucane risk The Guardian: David Cameron admits 'shocking levels of collusion' in Pat Finucane murder | Pat Finucane timeline: from 1989 murder to 2012 report | Critics refuse to let Cameron draw line under Pat Finucane scandal | Pat Finucane report: David Cameron apologises over killing | Pat Finucane's family denounce report as a 'sham' | Pat Finucane's death is a terrible stain on Britain's record in Northern Ireland BBC: Q&A: The murder of Pat Finucane Journal.IE: Government "strongly disagrees" with decision not to conduct public Finucane inquiry Soundmigration: How the RUC covered up the murder of Pat Finucane. Whats contained in Chpt 6 of Stevens III WSM: Pat Finucane murder & the cover up of Britain's dirty war in Ireland Indymedia.IE: British Government Murders Human Rights Lawyers in Occupied ireland
Related Blog posts: The Story of Ireland | Provos, Loyalists and Brits (BBC 90′s documentary series) | President Michael D Higgins and the "Real Irish Republic" | Martin McGuinness hoping to be Irish president for 2016 | 30th of January 1972, 14 civil rights activists were shot dead. 38 years later Justice came to Derry | Brian Anson – Architect, Story Teller, Poet, Revolutionary… passed away over the weekend | A full life | Croker and the Brits
While yesterdays news is a positive step toward justice, it doesnt go far enough!
Patrick Finucane was shot dead in 1989
Pat Finucane was a high-profile solicitor who lived and worked in Belfast. The 39-year-old Catholic was shot dead by loyalist paramilitaries in 1989.

In his role as a defence solicitor, he had represented clients who included convicted members of the Irish Republican Army (IRA) and families involved in shoot-to-kill allegations against the then police force, the Royal Ulster Constabulary (RUC).

There have been long-standing allegations that members of the UK security forces colluded in his murder. (BBC)
Fallout from the British Prime ministers words:
** Geraldine Finucane hits out at 'suppression of truth'
Pat Finucane's wife hits out at the "sham" and "whitewash" report into the loyalist murder of her husband in 1989.
* Related article: Finucane widow rejects 'whitewash'
Here are a selection of related videos:
.
An Fhirinne – British Collusion in Ireland
An Fhirinne, Irish for The Truth, is a campaign group made up of the relatives and friends of the hundreds of Catholics, Nationalists and Republicans, who have been murdered by Unionist death squads over the past thirty years with the knowledge and active assistance of the British Government. Here is a short documentary from them from a few years back:
1
2
** BBC Panorama: A License to Murder
BBC Panorama follows the story of a former British agent called Brian Nelson who was a member of the UDA and how both he and his Army Handlers choose so called "legitimate" Republican targets to be set up and murdered by the UDA. It also informs us the majority of the targets were not Republican targets but innocent bystanders who had no connections to the IRA and that Brian Nelson even went to the UVF as well. One of Sinn Féin's leading Belfast Politican's Alex Maskey was nearly murdered by a gang that was set up by Brian Nelson but Maskey left 20 seconds before the gunman arrived.
Part 1
Part 2
** Pat Finucanes Family set the record straight Friday 14th Oct 2011
The Family and legal representatives of murdered human rights lawyer, Pat Finucane, outline their position in the aftermath of their meeting with British Prime Minster David Cameron and British Secretary of State for the North of Ireland Owen Patterson on Tuesday 11th Oct 2011.
Part 1
Part 2
** Pat Finucane: Collusion and the Struggle for Truth, John Finucane (Pats son gives a lecture)
** Pat Finucane Remembered, Sinn Féin Ireland
** Gerry Adams calls for a full independent public inquiry into the murder of Pat Finucane
British State Collusion… Pat Finucane wasn't the only one!
The old Pat Finucane Mural
An Fhírinne – The struggle for the truth about Collusion
An Fhírinne – Who sanctioned Britain's Death Squads?
Wanted – Margaret Thatcher – Collusion is State Murder
"… If you don't defend human rights lawyers who will defend human rights? – Rosemary Nelson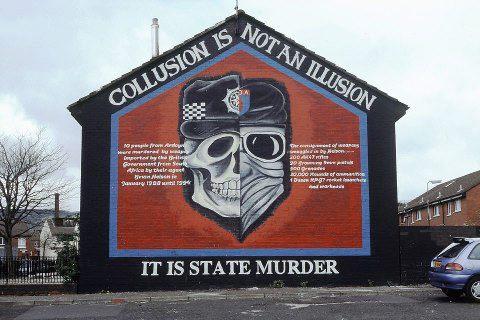 the truth is out there…..its gettin to it that is bein prevented – IMAGE HERE